St. Louis Post-Dispatch
by Jacob Barker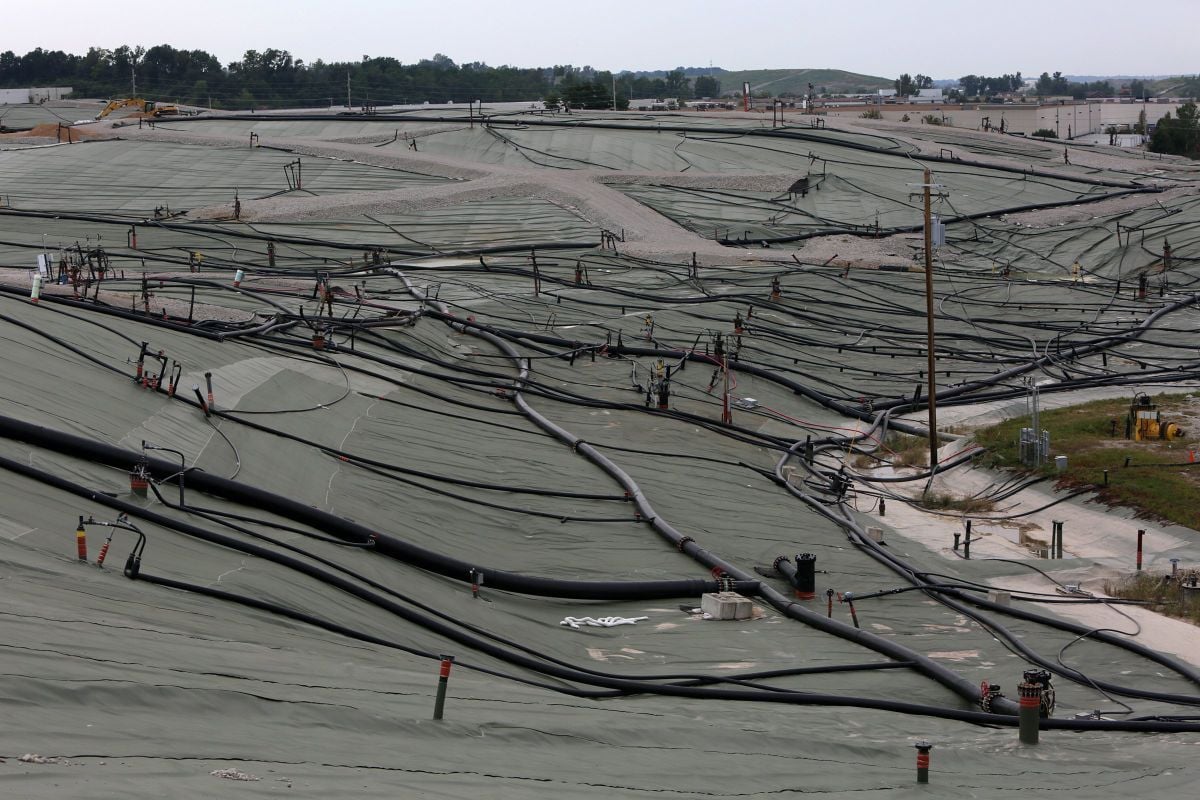 As anxiety grows in neighborhoods near the Bridgeton Landfill, newly released emergency plans may be of little comfort.
Some say concern among residents and area officials has heightened since Missouri Attorney General Chris Koster released reports last month that said an underground fire at the landfill was moving toward radioactive waste in the adjacent West Lake Landfill.
Koster's office also said some radioactive contamination was outside West Lake, a Superfund site overseen by the Environmental Protection Agency. The reports contradict landfill owner Republic Services' assurances that the fire is under control and come as Koster's office presses a lawsuit against Republic over the landfill.
"Since the release of that information, I've fielded a lot more questions, at least on a more consistent basis than we had before," said Pattonville Fire Protection District Assistant Fire Chief Matt LaVanchy, whose department would have jurisdiction over an emergency at the landfill.
During a Sunday community event in St. Ann, residents distributed fliers on what to do during a radiation emergency.
Rhonda Marsala, who heads the St. Ann Business Association, said she reached out to St. Louis County's Office of Emergency Management. Representatives there offered to attend and provide the radiation safety brochures, which use information from the Centers for Disease Control and Prevention.
"It kind of let us know there was a sense of urgency on St. Louis County's part," Marsala said.
More people have been asking about the landfills, she agreed.
"I think the real kicker that got people interested was when Koster's report came out," Marsala said. "There's definitely a sense of urgency felt by the community."
St. Louis County Executive Steve Stenger, in a phone interview, said the county provided the fliers at the request of the public, and it's not indicative of an existing emergency. An emergency response plan, first drafted in October 2014, was also released in response to recent media requests and to illustrate the county has put time into planning for an incident in Bridgeton, he added.
"We are quite literally ready to respond to any scenarios as they may present themselves," Stenger said.
First reported by KMOX (1120 AM), the county's emergency plan says if the fire reaches contaminated areas of West Lake, "there is a potential for radioactive fallout to be released in the smoke plume and spread throughout the region."
The cities of Bridgeton, Hazelwood, Maryland Heights, Champ and St. Charles would be "directly affected," the plan says. It details an evacuation plan, communication and other responses.
The EPA has said it doesn't believe the radioactive waste would be spread via air, although there would be an increase in radon gas.
LaVanchy, the assistant Pattonville chief, said he has taught firefighter training and worked closely with St. Louis County to develop the plan. Still, he said, it's more of a guideline for first responders.
"That situation at the landfill is so dynamic, you can't prepare for every single possibility that's out there," he said. "That document, for all intents and purposes, is to give first responders a heads up, a leg up."
Republic Services has insisted the fire is under control and is not moving toward West Lake. LaVanchy said he agreed that the fire appears to have "stalled."
But, he said, there was nothing to indicate the fire couldn't begin moving again.
Meanwhile, Koster's expert reports released last month have spurred Republic Services to move the case from St. Louis County Circuit Court to federal court.
In court filings last week, the Phoenix-based waste management company says Koster's expert reports show it "intends to assert control" over radioactive waste that EPA has "exclusive jurisdiction" over.
Koster, in a statement, called the move "a delaying tactic." He said his office opposes the move and push to keep a March trial date in St. Louis County Circuit Court.
Editor's note: Republic Services has already moved the case to federal court. A prior version indicated Republic petitioned to move the case from St. Louis County Circuit Court.