St. Louis Post-Dispatch
by Jacob Barker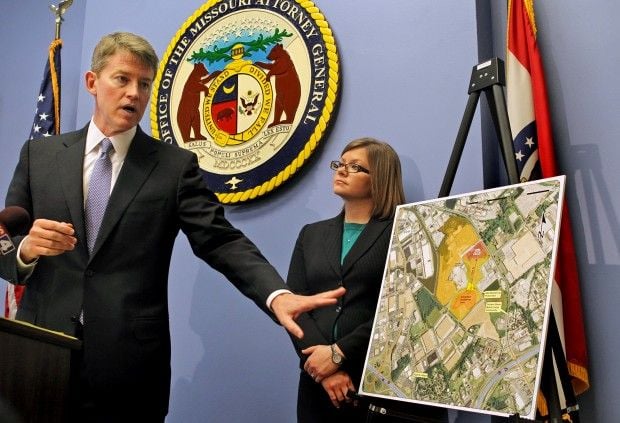 Koster's office says that Pelopidas, which Republic Services says it used to manage public relations, has "admissions" by Republic employees or contractors that the smoldering fire "will indeed reach the radiologically impacted materials at one or both of the landfills."
Missouri Attorney General Chris Koster's lawsuit against the owner of the smoldering Bridgeton Landfill won't be going to trial next week.
The lawsuit, filed in March 2013, leveled eight counts of violating Missouri environmental laws against landfill owner Republic Services. It sought orders requiring it to extinguish a smoldering fire deep within the landfill and take action to control odors, emissions and hazardous liquid releases caused by the fire.
Residents and workers near the landfill have complained of sore throats and other effects they worry are caused by the smelly landfill emissions caused by the fire that started more than five years ago.
Since filing the lawsuit, Republic Services and Koster's office have reached agreements that required Republic Services to pay for a plastic cap, air monitoring and a hazardous liquid treatment plant built on site. Republic Services says it has the underground smoldering under control and plans to let it burn itself out over the next couple of years.
But some still worry the fire could spread to the adjacent West Lake Landfill, where radioactive waste from early nuclear weapons processing is buried.
Koster's office says more needs to be done to finally put out the fire, and Republic Services could still face civil penalties. Koster spokeswoman Nanci Gonder said the state wants more gas extraction wells and cooling equipment to abate the smoldering, and it also is seeking a monitoring plan and protections for the state's air and water.
Republic Services declined to comment.
The case was scheduled to go to trial Monday, but both Koster's office and landfill owner Republic Services say that date is no longer viable.
Koster blames Republic's October transfer of the case from St. Louis County Circuit Court to federal court for the delay, referring to the move last year as a "delaying tactic."
"Defendants' removal of this case to this Court, and the resulting uncertainty about jurisdiction and a trial date has rendered the state court's scheduling order inadequate and no longer appropriate," Koster's office said in a federal court filing earlier this year.
But Republic Services contends that expert reports Koster released in September showed his office sought to "assert control" over radiological waste that the U.S. Environmental Protection Agency has "exclusive jurisdiction" over.
The state asked Judge Ronnie White to send the case back to St. Louis County Circuit Court four months ago. Meanwhile, Republic Services has continued filing motions to resolve certain disputes in the case, but Koster's office says it's pointless to argue over those matters until White rules on jurisdiction.
In the meantime, the two sides are fighting over a subpoena Koster's office issued to Pelopidas, a marketing and lobbying firm with ties to Missouri Republican mega-donor Rex Sinquefield. Koster, a Democrat, is running for Missouri governor.
Koster's office says that Pelopidas, which Republic Services says it used to manage public relations, has "admissions" by Republic employees or contractors that the smoldering fire "will indeed reach the radiologically impacted materials at one or both of the landfills."
Republic's attorneys dispute that Pelopidas has any such statements. It argues that subpoenaing its clients' work product with Pelopidas "chills their right to participate in freedom of expression" and should be protected on First Amendment grounds.
http://www.stltoday.com/business/local/trial-delayed-in-koster-lawsuit-over-bridgeton-landfill/article_6008f780-3026-53f1-9cde-4fc305bf9799.html?utm_medium=social&utm_source=facebook&utm_campaign=user-share